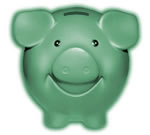 Need an affordable way to dip your toe in the water? Try one of our low cost solutions.
We can also offer a low cost
e-commerce solution.
Find out more >>
New solutions for keeping costs down
To help keep your costs down we have developed an 'off the shelf' package to suit virtually any needs.
We have launched this new package to help clients that need a low cost start up solution that is based around a template but is customised to suit the clients branding.
A very recent site was for Nethy Steel. Nethy Steel Ltd is a small company that specialises in Structural Steel Buildings in the North and North East of Scotland.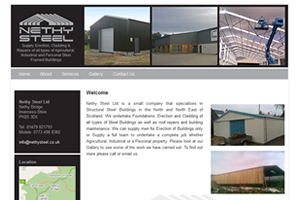 One of the more recent sites was for A Falconer & Sons. A well known Moray Haulage Contractor, A Falconer & Sons, commissioned a low cost solution website to promote their sand quarry at Kirkhill, Elgin and Haulage services.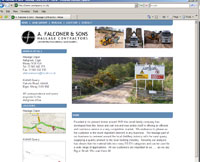 Another more recent site was for RIB Round Scotland. Sandy Morrison and his team are raising funds for RNLI and Moray Inshore Rescue Organisation by circumnavigating Scotland in a RIB. During the circumnavigation, the RIB will call in at all RNLI mainland stations. Donation can be made from the website via Justgiving to both organisations.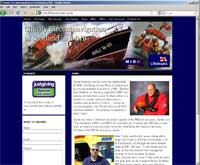 The DM Commercial Solutions website. The client is delighted with the branding, the easy maintenance of his site and the speedy progress we made in developing the website.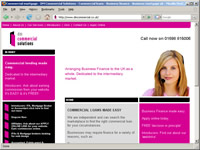 FAL Scottish Propeller Service benefitted from our exciting offer, and they are delighted with their new website.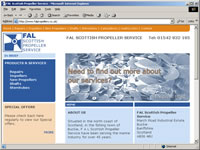 Take a look >>
What you get
Design:
The layout and overall site structure will remain virtually the same through-out all the site pages as the above site. Notice that the home page is different to the subpages allowing for a wider image on the first page, making the site more graphical.
We will also add your logo to the head of each page and colour brand your website to suit your corporate image.
Content:
We can add and format your text to the website and you may supply this to us in any electronic format (Microsoft Word, Notepad, etc.)
We will also add any reasonable amount of images to your website. These can be provided electronically, or we can scan your photographs (up to 20 per site for scans). Please be sure you do own copyright for any images you propose to use. Or, if you prefer, we can source free images from stock photography - but these might not always be as specific as you might like or we can purchase additional images at a small extra cost.
We also add an enquiry form on the contact page.
The website can contain up to 15 pages in total. Very long pages of content may count as more than one and this would be advised on receipt of content.
Email:
We are happy to provide multiple email accounts for each website.
Hosting:
Your first year's hosting is included in the price
Domain Name:
We will register an available domain name for your website and this is also included in the price for the first year (or first 2 years for a .co.uk domain).
Admin:
After we have created and uploaded your website to the internet you can then add and change content using our built in website editors. They are very easy to use and it means that you will be in control of your website.
Support:
Where we can, we will try help whenever you call us. We don't want to take your money and never see you again. We want happy clients with thriving websites.
To find out more, call Val on 0141 416 2522
We also offer a low cost e-commerce solution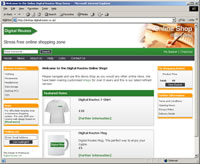 The new Digital Routes shop website is a breeze to maintain and use. We will customise the shop site to suit your corporate branding whilst much of the layout will stay the same. We have a number of shops already at various stages of development and these will be added to our news page as they become live. Please note that this also acts as a demonstration for the admin therefore various categories / images have been added, changed and deleted. For demonstration access to the shop administration, please contact us.
Note that the look and feel to eCommerce package is different to the standard low-cost option. The website layout has been developed to suit an eCommerce business.
To find out more, call Val on 0141 416 2522